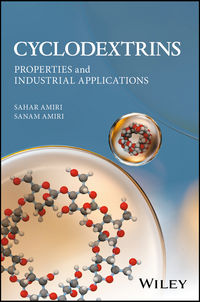 BACK
Cyclodextrins
Properties and Industrial Applications
The comprehensive resource for understanding the structure, properties, and applications of cyclodextrins
Cyclodextrins: Properties and Industrial Applications is a comprehensive resource that includes information on cyclodextrins (CDs) structure, their properties, formation of inclusion complex with various compounds as well as their applications. The authors Sahar Amiri and Sanam Amiri, noted experts in the field of cyclodextrins, cover both the basic and applied science in chemistry, biology, and physics of CDs and offers scientists and engineers an understand of cyclodextrins.
Cyclodextrins are a family of cyclic oligosaccharides consisting of (α-1,4)-linked α-D-glucopyranose units. The formation of inclusion complex between CDs as host and guest molecules is based on non-covalent interaction such as hydrogen bonding or van der waals interactions and lead to the formation of supramolecular structures. These supramolecular structures can be used as macroinitiator for initiating various type of reactions. CDs are widely used in many industrial products such as pharmacy, food and flavours, chemistry, chromatography, catalysis, biotechnology, agriculture, cosmetics, hygiene, medicine, textiles, drug delivery, packing, separation processes, environment protection, fermentation, and catalysis. This important resource:
Offers a basic understanding of cyclodextrins for researchers and engineers
Includes information of the basic structure of cyclodextrins and their properties
Reviews how cyclodextrins can be applied in a variety of fields including medicine, chemistry, textiles, packing, and many others
Shows how encapsulate corrosion inhibitors became active in corrosive electrolytes to ensure delivery of the inhibitors to corrosion sites and long-term corrosion protection
Cyclodextrins offers research scientists and engineers a wealth of information about CDs with particular focus on how cyclodextrins are applied in various ways including in drug delivery, the food industry, and many other areas.
More like this