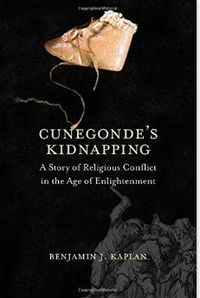 BACK
CUNEGONDE'S KIDNAPPING
A Story of Religious Strife in the Age of Enlightenment
CUNEGONDE'S KIDNAPPING by Benjamin Kaplan is the dramatic story of a kidnapping and trial that took place in the 18th-century in a small town on the border of Holland, Germany and Belgium.
This micro-history is told against the background of the bitter conflict between Protestants and Catholics in late Renaissance Europe. Because of the location of the town this crime involved residents of all three territories as well as sparking a small religious war.

Thanks to some extraordinary sources, the author has been able to reconstruct the story scene by scene and to tell it with an abundance of original dialogue. This tale serves as a window into a wider past and to make important points, in particular about the persistence of religious conflict in the "Age of Enlightenment." This story continues to have relevance even today.

Benjamin Kaplan writes primarily about religion and family life. His most recent book, entitled DIVIDED BY FAITH, was a history of religious toleration in Europe from the 16th through the 18th century and was published by Harvard University Press. He currently has a Chair in European History at the University of London.
More like this