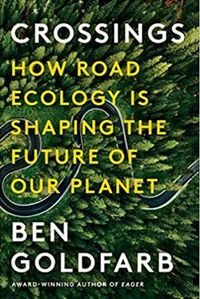 BACK
CROSSING
How Road Ecology Is Shaping the Future of Our Planet
An eye-opening and witty account of the global ecological transformations wrought by roads, from the award-winning author of Eager.
Some 40 million miles of roadways encircle the earth, but we tend to regard them only as infrastructure for human convenience. In Crossings, Ben Goldfarb delves into the new science of road ecology to explore how roads have transformed our world. A million animals are killed by cars each day in the US alone, and roads fragment wildlife populations into inbred clusters, disrupt migration for creatures from antelope to salmon, allow invasive plants to spread, and even bend the arc of evolution itself.

But road ecologists are also seeking innovative solutions: Goldfarb meets with conservationists building bridges for mountain lions and tunnels for toads, engineers deconstructing logging roads, and citizens working to undo the havoc highways have wreaked upon cities.
A sweeping, spirited, and timely investigation into how humans have altered the natural world, Crossings also shows us how to create a better future for all living beings.

Ben Goldfarb is the author of Eager: The Surprising, Secret Life of Beavers and Why They Matter, winner of the PEN/E.O. Wilson Literary Science Writing Award. A recipient of fellowships from the Alicia Patterson Foundation and the Whiting Foundation, he lives in Colorado.
More like this