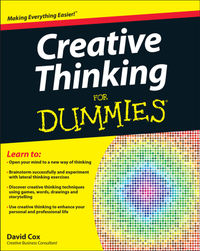 BACK
Creative Thinking For Dummies
Open the door to a world of infinite new ideas and creative opportunities!
Creative thinking is all about opening your mind and seeing things in a new way. Acquiring the knack can be incredibly liberating. Better yet is learning how to apply creative thinking in practical ways. It's a skill that opens up a wealth of new possibilities for greater success and fulfilment in every aspect of your life. In Creative Thinking For Dummies you'll discover powerful tools for kicking your brain's idea engine into high gear, along with easy-to-learn-and-use techniques for living more creatively and finding innovative solutions to all of life's challenges.
Think inside the box – discover why your brain works the way it does and what psychology and neuroscience have to say about obstacles to creative thinking and how to overcome them
Start your engines! – use simple, proven techniques for getting into the zone and feeling at home there, including da Vinci's principles of creative living
Brainstorm the castle – find innovative solutions to even the most daunting problems with brainstorming, lateral thinking exercises, visualisation and more
Ideate like there's no tomorrow – generate amazing new ideas – fast! – using mind-mapping, word games, doodling, storytelling and other fun, easy techniques
Take your creativity to work – find out how to use creative thinking to get recognised at work, form better work relationships and advance your career
Mainstream your imagination – learn how to make creativity integral to your everyday life and to live life with more humour, happiness, inspiration and fun!
Open the book and find:
What creative thinking is and how it happens in the brain
Ways to open yourself up to living more creatively
How to unleash your imagination and realise your creative potential
Tools for generating great new ideas in a hurry
Creative problem-solving techniques
Methods for improving your mind with whole-brain thinking
Tips for learning faster and better and remembering more
Ideas for being creative at work – and making creativity work for you
More like this