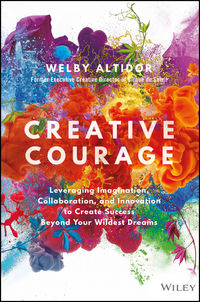 BACK
Creative Courage
Leveraging Imagination, Collaboration, and Innovation to Create Success Beyond Your Wildest Dreams
How can we create or nurture a culture at work that's more innovative to answer the call of transformation? How can we leverage imagination and creativity to make our work more robust and resilient? And, how can such a culture help produce relevance, inside and outside of our organization?
Written by the former Executive Creative Director of Creations at Cirque du Soleil, Creative Courage shows what it takes to step outside our comfort zones to truly make a difference. Welby Altidor outlines a flexible and transformational framework for individuals and organizations who want to operate and innovate at the highest level in order to provide more constructive, inspiring, and empowering space for their employees, teams, and collaborators to flourish.
As Altidor clearly shows, creative courage is more than a practical strategy, it's a way of life. It opens our minds—and the minds of those around us—to new approaches, new ideas, and new schools of thought that can revolutionize the way we work. The author reveals the foundational values of caring, safety, and trust that need to be in place in order to dream of the seemingly impossible and then take the risks that innovation demands. Discoveries and breakthroughs happen when we are able to identify ideas that can trigger constructive emotional reactions or experiences. When we take the dare to grow, we let more love and beauty in the world.
Once the creative courage process is in place and proven successful, it can begin again from anywhere in the framework. For as long as we understand the sequential and incremental nature of each stage in relationship to each other, we can review our individual work with the same tool and target areas for further development.
Whether you work independently or as part of a team, whether you're self-employed or part of an organization, and even if you think creativity isn't a part of the work that you do—Creative Courage gives you the perspective, courage, and kick start you need to think differently about the things you do every day.
More like this