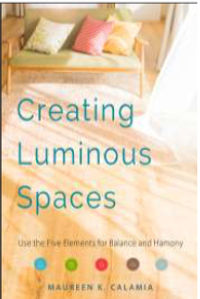 BACK
CREATING LUMINOUS SPACES
Use the Five Elements for Balance and Harmony in Your Home and in Your Life
A luminous space is restorative and nurturing. It's a place that inspires you, helps you achieve your goals, and ignites your personal power. This book will teach you how to create luminous spaces using the wisdom of the five elements: wood, fire, earth, metal, and water. These natural elements will give you a stronger, deeper connection to nature and promote more joy and peace in your life.
Learn how to determine which element reflects your true nature and apply the five elements to achieve balance and harmony in your home and in your life. Real stories of how the elements impact our lives are included along with space clearing exercises, meditations, and practical ways to create a home that will enhance your wellbeing.

Maureen K. Calamia is a board member of the International Feng Shui Guild, a feng shui consultant and teacher, and a regular columnist for theHuffington Post, Creations Magazine, and Mind Body Green.

Weblink:
www.luminous-spaces.com


More like this