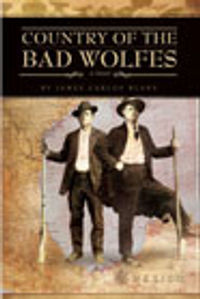 BACK
COUNTRY OF THE BAD WOLFES
A page-turning, epic Western novel, peopled with a host of memorable characters, COUNTRY OF THE BAD WOLFES is sure to appeal to fans of Larry McMurtry, Cormac McCarthy and Louis L'Amour. Entertainment Weekly notes: Like Lonesome Dove's creator, Blake favors straight-talking, unschooled narrators who speak in a vivid, salty vernacular, and his fiction is so readable--so folksy, action-packed, and earthy--it's easy to miss the fact that it is also, frequently, brilliant."

Blake presents the story of the Wolfe family - a saga that spans three generations, centers on two sets of identical twins and the women they love, and ranges from New England to the heart of Mexico before concluding in South Texas.

Begat by an Irish-English pirate in New Hampshire in 1828, the Wolfe family follows its manifest destiny into war-torn Mexico. There, through the connection of a mysterious American named Edward Little, their fortunes intertwine with those of Porfirio Díaz, who will rule the country for more than thirty years before his overthrow by the Revolution of 1910. In the course of those tumultuous chapters in American and Mexican history, as Díaz grows in power, the Wolfes grow rich and forge a violent history of their own, spawning a fearsome legacy that will pursue them to a climactic reckoning at the Río Grande.

James Carlos Blake was born in Mexico and grew up in Texas and Florida. He is the author of nine other novels and a collection of short works. Among his literary honors are the Los Angeles Times Book Prize, the Southwest Book Award, and the Falcon Award.
More like this