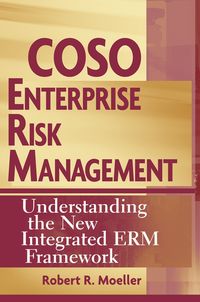 BACK
COSO Enterprise Risk Management
Understanding the New Integrated ERM Framework
COSO Enterprise Risk Management
Understanding the New Integrated ERM Framework
When COSO ERM was first released, some professionals inadvertently viewed this new risk-based framework as simply an update of the COSO Internal Controls framework of ten years before.?Filled with valuable advice and guidance from an industry insider, COSO Enterprise Risk Management hails COSO ERM as the new way of looking at all aspects of risk in today's organization, equipping professionals to better understand the COSO ERM framework and make maximum use of this tool in evaluating the risks associated with all business decisions.
Using the COSO ERM framework's model and terminology, this timely book discusses the importance of understanding the various risks facing many aspects of business operations and helps professionals develop and follow an effective risk culture for many business and operating decisions. To this end, a hypothetical company, "Global Computer Products, Inc.," illustrates the practical application of COSO ERM within realistic corporate circumstances.
COSO Enterprise Risk Management thoroughly provides clear-cut guidance on relevant topics including:
The importance of enterprise risk management today

Key concepts and terminology used in risk assessments

ERM as an overall structure, integrating the strategic, operational, reporting, and compliance objectives

The ways in which the COSO ERM framework approach can help an organization to better manage risks and to achieve key objectives

Information technology and ERM including discussion of application systems risks, effective continuity planning, and worms, viruses, and systems network access risks
Compliance with well-recognized and mandated standards are important for every organization and allows a corporation to demonstrate that they are following best practices and are in conformity with regulatory rules. COSO Enterprise Risk Management uniquely helps business professionals at all levels——from staff internal auditors to corporate board members——to understand risk management in general and make more effective use of the new COSO ERM risk management framework.
More like this