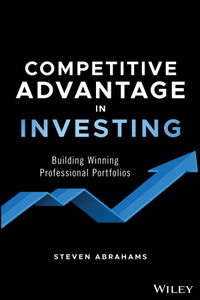 BACK
Competitive Advantage in Investing
Building Winning Professional Portfolios
There are books on investment theory, and there are guides for practitioners. Somehow, the two rarely overlap, although investors have much to learn from both. The theoretical literature often focuses on the balance of risk, return, and diversification, as though there were nothing else influencing and constraining investor behavior. The practical literature then focuses on other things—the investment conventions of different markets, taxes and accounting, financing, and beyond—usually without acknowledging the important and valuable theoretical foundation that underlies investment success.
Competitive Advantage in Investing bridges the theoretical and practical strands of the investment literature, offering a treatment of risk, return, and diversification, as well as a new emphasis on the idea that portfolio performance depends on investors' own strengths and weaknesses. Investors aware of their strengths and using them to find promising opportunities can build portfolios that are better poised to generate excess returns. With this book, investment professionals and researchers alike will gain a more complete understanding of what makes some portfolios perform better than others.
Author Steven Abrahams builds on the classic Capital Asset Pricing Model to develop a new and more robust investment framework—the Local Capital Asset Pricing Model. The Local CAPM incorporates competitive advantage and disadvantage, grounded in particular investment factors, into a model for valuing assets. Infusing real-world considerations into investment theory is a novel idea, and one that promises to explain the complex landscape of institutional investing more accurately than ever before. Theoreticians and professionals alike will benefit.
More like this