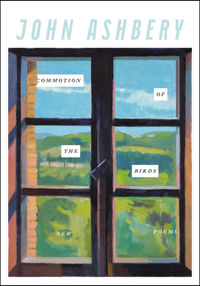 BACK
COMMOTION OF THE BIRDS
New Poems
A crackling, moving new collection from one of America's greatest living poets.
In over twenty-six original books, the poems of John Ashbery have long served as signposts guiding us through the delights, woes, hypocrisies, and uncertainties of living in the modern world. With language harvested from everyday speech, fragments of pop culture, objects and figures borrowed from art and literature, his work makes light out of darkness, playing with tone and style to show how even the seemingly frivolous stuff of existence can be employed to express the deepest levels of feeling.

Commotion of the Birds showcases once again Ashbery's mastery of a staggering range of voices and his singular lyric agility: wry, frank, contemplative, resigned, bemused, and ecstatic. The poet in this new collection is at once removed from and immersed in the terrain of his examination. Disarmingly conversational, he invites the reader to join him in looking out onto the future with humor, curiosity, and insight. The lines of these poems achieve a low-humming, thrilling point of vibration, a jostling of feathers before flight.

John Ashbery was born in Rochester, New York, in 1927. He earned degrees from Harvard and Columbia University, and went to France as a Fulbright Scholar in 1955, living there for much of the next decade.
His many collections include Notes from the Air: Selected Later Poems (2007), which was awarded the International Griffin Poetry Prize. Self-Portrait in a Convex Mirror (1975) won the three major American prizes—the Pulitzer, the National Book Award, and the National Book Critics Circle Award—and an early book, Some Trees (1956), was selected by W. H. Auden for the Yale Younger Poets Series. The Library of America published the first volume of his collected poems in 2008.
Active in various areas of the arts throughout his career, he has served as executive editor of Art News and as art critic for New York magazine and Newsweek. He is a member of the American Academy of Arts and Letters and the American Academy of Arts and Sciences, and he was a chancellor of the Academy of American Poets from 1988 to 1999. He has received two Guggenheim Fellowships and was a MacArthur Fellow from 1985 to 1990. His work has been translated into more than twenty-five languages. He lives in New York.
More like this