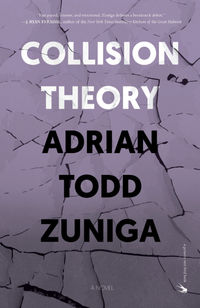 BACK
COLLISION THEORY
A love story about a young man who accidentally witnesses a suicide and who learns that the only way to undo the impact of an unexpected thing is to do something unexpected in turn.
It would be easier for Thomas Mullen to move on from what he'd seen if the woman stopped appearing to him, reminding him always of what he was powerless to stop.

But, months later, after Thomas loses his phone and the random woman who recovers it arranges to return it to him, his predicament intensifies. This woman tells him that while she's had his phone, his mother has called. His mother really wants Thomas to come home, she says. And who is Sarah, this woman asks Thomas. His mother had asked her if she was Sarah. And how could she not have said yes? It seemed to make his mother so happy.

Collision Theory, Adrian Todd Zuniga's memorably heartfelt and headlong debut novel, unfolds with its own particular velocity. After Thomas was an unexpected witness to a suicide he scrambles to reconcile whether there might have been any way to prevent it. And he wonders whether the only way to undo the impact of an unexpected thing is to do something unexpected in turn. But the phone won't stop ringing.

Collision Theory's suddenness, its unexpectedness, its humor, and its humanity make for an unforgettable, surprising, and emotional read.

Adrian Todd Zuniga is a writer, stand-up comedian and the host/creator of Literary Death Match, which the LA TIMES called "a combination of comedy, audience participation and high literature that makes for one of the most entertaining reading series ever. " This live event series is featured in 60 cities worldwide and with participation from more than a thousand authors, including Karen Russell, Rick Moody, and Tom Perrotta. Adrian will incorporate promotion for COLLISION THEORY into his schedule and will turn to his extensive contacts within the novelist community for assistance with endorsements or appearances. In addition, he founded the literary magazine Opium, and his fiction has been featured in Readux, Gopher Illustrated and Stymie, and online at McSweeney's. He's also the head-writer for EA Sports' Madden franchise. He lives in Los Angeles.

Weblink:
http://www.rarebirdbooks.com/new-products/preorder-collision-theory-by-adrian-todd-zuniga?rq=zuniga


More like this