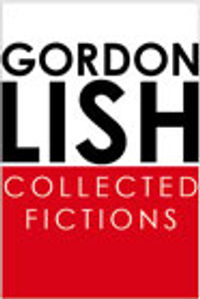 BACK
COLLECTED FICTIONS
In literary America, to utter the name 'Gordon Lish' in a conversation is like adding hot sauce to a meal. You either enjoy the zesty experience, one that pushes your limits - or you prefer to stay away. It's Lish who, first as fiction editor at Esquire magazine (where he earned the nickname 'Captain Fiction') and then at the publisher Alfred A. Knopf, shaped the work of many of the country's foremost writers, from Raymond Carver and Barry Hannah to Amy Hempel and Lily Tuck.

As a writer himself, Lish's stripped-down, brutally spare style earns accolades in increasing numbers. His oeuvre is coming to be recognized as among the most significant of the period that spans the transition between the 20th and 21st centuries. Kirkus Reviews wrote of his last collection that "Lish is still our Joyce, our Beckett, our most true modernist."

This definitive collection of Lish's short work includes a new foreword by the author and 106 stories, many of which Lish has revised exclusively for this edition. His observations are in turn achingly sad and wryly funny as they spark recognition of our common, clumsy humanity. There are no heroes here, except, perhaps, for all of us, as we muddle our way through life: they are stories of unfaithful husbands, inadequate fathers, restless children and writing teachers, men lost in their middle age: more often than not first-person tales narrated by one Gordon Lish. The take on life is bemused, satirical, and relentlessly accurate; the language unadorned: the result is a model of modernist prose and a volume of enduring literary craftsmanship.
More like this