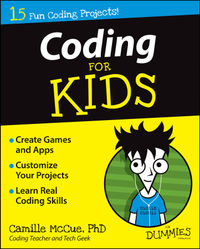 BACK
Coding For Kids For Dummies
Create Games and Apps
Customize Your Projects
Learn Real Coding Skills
A coding book for kids!
Do you know how to write code to create your own computer games and applications? This book shares 15 projects designed to teach the basics of coding while you follow step-by-step projects. When you're finished, you can proudly brag "I made this!!!"
Dive right in — download the MicroWorlds EX trial and start writing simple code
Make it your own — add your personal touches to the projects
Build the skills — show off new coding and math know-how to your friends, parents, and teachers
FOR KIDS
The fun and easy way for kids to learn new skills on their own!
Or with a little help from friends, family, and teachers.
More like this