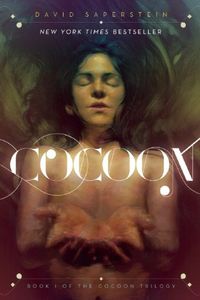 BACK
COCOON
Cocoon, which was a New York Times bestseller upon its release (and an Academy Award–winning film of the same name), is the amazing beginning of the Cocoon trilogy, which spans twenty years and was a pioneering science fiction novel by David Saperstein that still resonates with audiences today.
Fifteen years before the start of the Earth's third Christian millennium, after a five-thousand-year absence, Antarean space travelers have returned to Earth. After the destruction by the impact of an asteroid, a few islands were all that remained of the continent above the waters of the Atlantic Ocean.

Before the asteroid's impact destroyed Antares Quad-Three, they had cocooned and secreted a diplomatic army for future use on Earth. They believed these soldiers and commanders, numbering 941, were secure and safe in a state of suspended animation beneath the sea floor. But, sadly, the Antareans discovered that pollution and ultraviolet radiation had adversely affected the cocoons, making the life they held partially damaged and dangerously vulnerable.

On arrival to the destroyed planet, the Antarean presence was discovered by a small group of retired humans. Once discovered, the seniors offered to help the Antareans reseal their damaged cocoons and return them to their underwater chamber, saving the diplomatic army to be revived and awakened in the future. To show their gratitude, the Antarean leaders invited their aged helpers to join them on their Mothership, and thus become Earth's first deep space travelers. They called themselves the Geriatric Brigade.

David Saperstein is an author, filmmaker, and professor whose first novel, Cocoon, became a New York Times bestseller. The novel was made into a movie and won two Academy Awards. He has written fourteen novels and thirty-five movie and TV scripts, directed feature films, created lyrics for over eighty published songs, and written librettos for three musicals. He has taught, lectured, and facilitated seminars in colleges and corporations in the United States, Canada, and Europe. Saperstein was born and raised in New York.
More like this