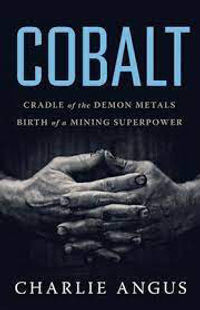 BACK
COBALT
Cradle of the Demon Metals, Birth of a Mining Superpower
The modern search for cobalt has brought investors back to a small town in Northern Canada, a place called Cobalt. Like the demon metal, this town has a dark and turbulent history.

The tale of the early-twentieth-century mining rush at Cobalt has been told as a settler's adventure, but Indigenous people had already been trading in metals from the region for two thousand years. And the events that happened here -- the theft of Indigenous lands, the exploitation of a multicultural workforce, and the destruction of the natural environment --established a template for resource extraction that has been exported around the world.

Angus reframes the complex and intersectional history of Cobalt within a broader international frame -- from the conquistadores to the Western gold rush to the struggles in the Democratic Republic of Congo today. He demonstrates how Cobalt set Canada on its path to become the world's dominant mining superpower.

This is an examination of the troubled history of cobalt mining and Canada's role in exporting it around the world. But it is also a horrific story of our own complicity in using these products, much like purchasing clothing produced in child-labour facilities. Cobalt powers our digital and clean technologies, from the lithium-ion batteries in our mobile phones to electric cars. But despite these uses in "clean" technology, the mining of cobalt has had a devastating impact on the natural environment and is known to exploit child and slave labour. In 2019 a human rights NGO filed a class-action lawsuit against companies including Apple, Tesla, Dell, and Microsoft for "knowingly benefiting from and aiding and abetting the cruel and brutal use of young children" in the Democratic Republic of Congo. And yet this has not deterred further exploitation — in 2020 billionaires Jeff Bezos, Michael Bloomberg, and Bill Gates formed a mining company to seek out new sources of cobalt in Canada.

Angus has been a Member of Parliament since 2004. He is the author of eight books about the North, Indigenous issues, and mining culture, including the award-winning Children of the Broken Treaty.
More like this