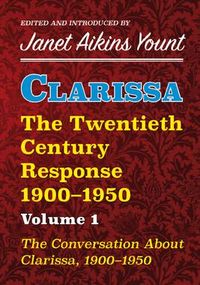 BACK
Clarissa: The Twentieth Century Response 1900-1950
ol. 1: The Conversation About Clarissa, 1900-1950 ​Vol. 2: Clarissa's Reception, 1900-1950
This commanding two-volume project on Samuel Richardson's classic is an essential source for 18th century studies. It presents the most valuable critical, intellectual and aesthetic responses to this great novel from 1900 to 1950, when Frank Kermode re-assessed the relative significance of Richardson and Henry Fielding and affirmed the superior "value" of Richardson's moral and formal achievement. Professor Yount pursues four main goals: to place the critical materials she has gathered here and reprinted in their immediate historical contexts; to offer insight into works conceived at a time when the discipline of English studies as we know it was in its earliest stages of development; to illuminate the significance of responses toClarissa that seem outdated or naive by today's scholarly standards; and to identify recurrent themes, highlighting the novel's ongoing and often controversial appeal in the first half of the twentieth century. These volumes reprint key commentaries and provide an introduction to the materials reprinted. They also offer scholarly background to these and discuss others omitted for reasons of space.
Contents Vol. 1: The Conversation About Clarissa, 1900-1950
Preface. Note on the Text. Acknowledgments. The Conversation about Clarissa: Clarissa, 1900–1914. Clarissa, 1915–1930. Clarissa, 1931–1944.Clarissa, 1945–1950. Conclusion: Atonement: A Novel. Notes. Works Cited. Index.
Contents Vol. 2: Clarissa's Reception, 1900-1950
Preface. Editorial Principles. Note on the Text. Clarissa's Reception, 1900‒1914: Responses Before the Great WarClarissa's Reception, 1931‒1944: Contending Voices Before and During World War II. Clarissa's Reception, 1945‒1950: World War II and Beyond. Index.
More like this