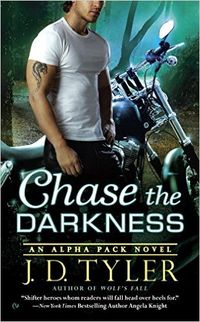 BACK
CHASE THE DARKNESS
The author of Wolf's Fall returns with her "hot and to die for"* Alpha Pack—a top-secret band of Navy SEALs with Psy powers and shifter prowess whose dangerous missions sometimes require a more intimate call to duty…
Believed dead by his Pack mates, Micah Chase, a wolf shifter and Dreamwalker, was held captive for months, subject to tortures that left him physically scarred and emotionally unsettled.

Now under the care of the Alpha Pack's doctors, he's been prescribed an experimental healing drug, but he still can't shake the nightmares. Even more damning is that Micah's problems pose a danger to his team, and if he doesn't get himself under control, they'll all suffer a terrible fate.

There is a key to his salvation. Jacee is a beautiful coyote shifter, and though her kind is hated, she's falling in love with a man whose very future is in her hands. Together they'll face his personal demons as well as a deadly enemy—and for both of them desire has never come with such risk.

J. D. Tyler has a Master's degree in Education and spent sixteen years in the public school trenches before she left teaching to pursue her dream of writing full time. An active member of Romance Writers of America, she's been a finalist for Colorado Romance Writers Award of Excellence, has captured the HOLT Medallion Award of Merit, and has one book optioned for a major motion picture. Her Alpha Pack novels include Primal Law, Savage Awakening, Black Moon, Hunter's Heart, and Cole's Redemption.
More like this