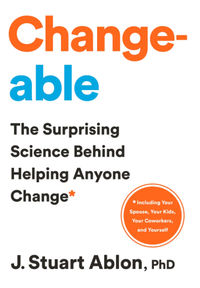 BACK
CHANGEABLE
The Surprising Science Behind Helping Anyone Change
A proven, powerful way to make meaningful changes in behaviorat home, at work, in others, and in ourselves.
"Why won't you change?" It's the battle cry of anyone who's ever tried to help a troubled teen, an undisciplined colleague, a stubborn spouse... and anyone who's ever tried to curb bad habits and behavior in him or herself.

Why is it so hard to change unwanted behavior? This paradigm-shifting book presents an evidence-based approach that actually works. Rather than judging, blaming, harsher punishment, or a call for more willpower, a more effective response to problem behavior is recognizing there's a lack of skill, not a lack of will. Based on psychologist Stuart Ablon's more than twenty-five years of clinical work with some of the most challenging populations (juvenile offenders, convicted criminals, and other institutionalized individuals) as well as training teachers, police officers, and other professionals, CHANGEABLE presents a new way of thinking about solving our most vexing behavioral problems - and practical advice to put the ideas into practice.

Forget tough love, zero tolerance, and other outdated ways to try to eliminate bad behavior. Instead, look for what's missing - the ability to tolerate frustration and change, for example - and work together to find a solution that will actually stick.

CHANGEABLE offers a fresh take on an evergreen problem - willpower and discipline are widely viewed as ineffective, and this book offers a new alternative. Plus, the book will have a wide appeal with examples that cover parenting challenges, workplace conflicts, relationship issues, and more.
Stuart Ablon is a PhD, the Director of Think:Kids in the Department of Psychiatry at Massachusetts General Hospital and an Associate Clinical Professor of Psychology in the Department of Psychiatry at Harvard Medical School. He is a sought-after speaker at conferences and institutions worldwide addressing tens of thousands of people each year.
More like this