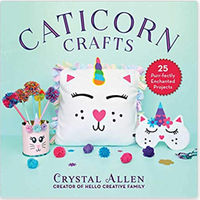 BACK
CATICORN CRAFTS
25 Purr-fectly Enchanted Projects
Get ready for a whole lot of fun with "purr-fectly meowgical" caticorn crafts!
What's better than a sweet fluffy kitten? A sweet fluffy kitten with a unicorn horn! From the creator of the website Hello Creative Family comes the ultimate book of caticorn crafts.
Projects include:
- Smitten Kitten Caticorn Picture Frames
- Pawsome Uni-kitty Pencil Erasers
- Better Than A Ball of Yarn Caticorn String Art
- Purr-ty No Sew Uni-kitty Sleep Masks
- Meow-gical Caticorn Flare Pins
And much more!


With material lists, templates, step-by-step photos, and easy-to-follow instructions (along with a whole bunch of glitter, rainbows, and cat puns), this book is filled with magical projects that crafters of all ages and experience levels will enjoy! It's guaranteed to provide hours of enchanted fun.

Keep your caticorn crafts for yourself or give them as handmade gifts to brighten someone's day! What are you waiting for? Let's get crafting!

Crystal Allen is the owner and creative director of Hello Creative Family, a website for families looking to ignite their creativity with simple, playful, and fun crafts, DIYs, and recipes. Raised by two creative parents, Crystal is a firm believer that creative parents raise creative kids. With an emphasis on projects that take sixty minutes or less to make, Hello Creative Family's goal is to inspire families everywhere to carve out a bit of time to get creative and create a handmade, homemade, heart-made home. Crystal resides in British Columbia, Canada.
More like this