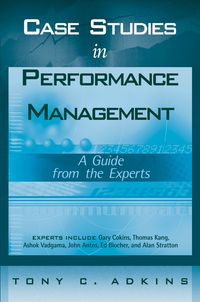 BACK
Case Studies in Performance Management
A Guide from the Experts
There is a growing acceptance that traditional performance management and financial accounting methods are imperfect and inadequate for keeping competitive in today's technology-driven information age. More than ever, today's companies are acknowledging a need to improve performance in critical areas. With that goal in mind, newer methods such as activity-based costing, scorecarding, and integrated planning and budgeting are being used by many businesses to improve value to their customers while boosting profit. Case Studies in Performance Management is required reading for anyone who wants to gain a better grasp of activity-based costing/performance management (ABC/PM) and learn—from industry experts—how it can be the basis for understanding and maximizing an organization's cost structure.
This important new book looks at fifteen companies across diverse industries including manufacturing, service, public sector, consumer packaged goods, airline, and energy/utility fields, which have all successfully applied ABC/PM. Changing the companies' names to respect client confidentiality, the book's frontline perspective offers a before-and-after look at the challenges overcome by each organization throughout its adoption of ABC/PM. Each study is preceded and concluded with insightful commentary from an industry and consulting expert, including Gary Cokins, Ashok Vadgama, Alan Stratton, and John Miller.
Case studies include:
LubeOil: Shaping Business Today and in the Future
Veri Glass: See Clearly with Activity-Based Costing?
HomeHealth: Delivering Activity-Based Costing
Sierra Trucks: Trucking Along with Activity-Based Cost/Management
Power & Light: Gets a Charge Out of Activity-Based Costing/Management
As author Tony C. Adkins advises, no one methodology or modeling approach within ABC/PM fits all, and as seen in these studies, companies should ideally evaluate their own unique needs with a pilot project and then design a model to fit those needs. Case Studies in Performance Management shows you how to decrease and eliminate misallocation and misinformation toward an effective implementation of ABC/PM and a more profitable bottom line.
More like this