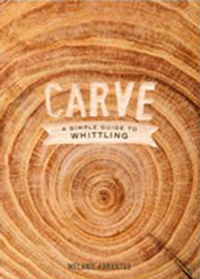 BACK
CARVE
A Simple Guide to Whittling
Whittle a spoon, pair of dice, comb, catch-all tray and more with this modern, pocket-sized guide to a folksy craft. Designed to be gender neutral, CARVE is the perfect response to the growing trend of mindful crafts for both men and women that offer an excuse to slow down and enjoy.
Carve updates a mindful hobby that's made for unplugging and connecting with the outdoors. Choose from a dozen projects that include beautiful photographs and easy instructions--and require just a few hours and a tool or two to complete. You'll also learn how to choose the right knife and wood, helpful information on techniques and safety, and tips for personalizing and maintaining a finished piece with staining, burning, monogramming, and more. Whether you pack this guide for your next camping trip or bring it to the porch, this is the ultimate introduction to chiseling small objects and utensils--and in the process carving out a little peace and quiet for yourself.

Product designer and maker MELANIE ABRANTES runs her own wooden spoon carving workshops in Oakland and sells her designs in small shops and retail stores nationwide, including Urban Outfitters and West Elm. She's been featured in Martha Stewart Living, Anthology, Domino magazine, Dwell, and Bon Appétit.

Weblink:
www.melanieabrantes.com


More like this