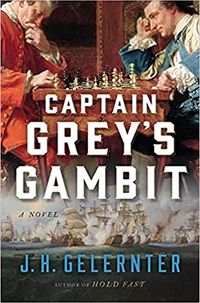 BACK
CAPTAIN GREY'S GAMBIT
Captain Grey's Gambit, the second novel in J. H. Gelernter's already-lauded Thomas Grey series, a taut historical thriller for fans of The Queen's Gambit and James Bond. Captain Grey's Gambit continues a story that is "smart, fast, twisty, and dangerous" (Lee Child) in a "richly imagined early nineteenth-century world" (Richard Snow).
December 1803: A French invasion fleet is poised to cross the Channel and storm the beaches of southern England. One of Napoleon's top advisorsdisaffected by the Corsican's tyrannycontacts the British naval intelligence service in hopes of defecting to London. His escape plan calls for a rendezvous at an international chess tournament in Frankfurt; a rare opportunity for him to travel outside France. Naval intelligence sends its top man and best chess player, Captain Thomas Grey, to orchestrate the advisor's escape to England. But Grey's mission changes dramatically when the defector demands that his pro-Napoleon daughter come with himexpecting Grey to act not just as escort, but kidnapper.

J. H. Gelernter lives in Connecticut. He is the author of the Captain Grey novels, Hold Fast and Captain Grey's Gambit.
More like this