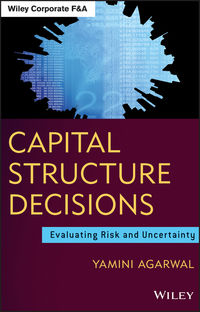 BACK
Capital Structure Decisions
Evaluating Risk and Uncertainty
Practical ways of appraising capital structures have always been riddled with risks and uncertainties. Demanding stakeholders and highly competitive markets with strict corporate governance measures make every penny invested accountable. Capital is not limited to on–balance sheet choices, but extends to off–balance sheet sources. Risk is not limited to profits, but extends to the value of the balance sheet and its claims. New and innovative means need to be used to develop and evolve structures that provide strategic competitive advantage.
Engaging and accessible, this reliable resource skillfully reveals how a decision maker who is tasked with creating value for stakeholders can make more informed strategic decisions on a firm's capital structure. Along the way, it offers valuable insights on:
Understanding the different dimensions of capital structure decisions involving time, risk, and the strategic evaluation of these decisions
Different innovations and global market perspectives that make decisions more strategically competitive
Evaluation of past models and theories that make decisions relevant and contribute to value creation
The role and importance of the decision maker by acknowledging the importance of personal attributes on decisions and value creation
Developing and proposing a new framework for evaluating decisions under multiple goals, constraints, risks, and uncertainties.
Written for experienced practitioners as well as those aspiring to enter this field, Capital Structure Decisions puts into perspective the essential decision-making processes needed in today's dynamic multiobjective environment, and provides comprehensive coverage of the various elements associated with them. Each chapter uncovers the details that govern decision-making, helping readers develop an understanding of the different perspectives that guide the process in the real world.
For the first time, this book asserts that the focus of decision-making has shifted from using mathematically programmed formulas to considering more closely the choices of decision makers as well as the priorities that lead them in their decisions. Capital Structure Decisions shows you what it takes to excel at this challenging endeavor.
More like this