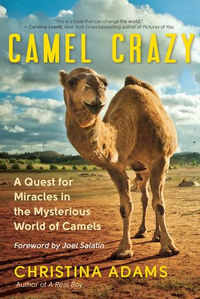 BACK
CAMEL CRAZY
A Quest for Miracles in the Mysterious World of Camels
When Christina Adams, a journalist by training, discovered that camel's milk helped her son with autism, she started a journey she could never have anticipated.
Adams teamed up with international scientists to explore the amazing properties of camel milk, properties that help combat autism, allergies, diabetes, and immune dysfunction. Combining strong narrative, cutting-edge science, and lively portraits of distinct cultures and personalities, Adams takes us to the camel farms of Arab royals, travels with white-swathed Tuareg nomads and their herds, and meets passionate Amish camel farmers. And she also comes to understand why camels are cherished, regarded as family members, and hailed as healers.

Christina Adams an award-winning writer, journalist and speaker. Her work appears in The Washington Post, The Los Angeles Times, LA Times Magazine, and many more. She is the author of A Real Boy: A True Story of Autism, (Berkley/Penguin).
More like this