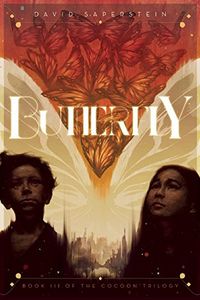 BACK
BUTTERFLY
Tomorrow's Children
In the final installment of the New York Times bestselling Cocoon trilogy, Butterfly shows the effect of the children of Butterfly House and what they hold for the future of mankind.
More than fifteen years have now passed since the children of the Geriatric Brigade were born and left behind on Earth . . . and now the Third Christian Millennium has begun. The children have been secreted, protected, nourished, educated, and loved at Butterfly House, a private compound on Cayman Brac in the Caribbean—the smallest and most remote of the Cayman Islands.

Aside from their guardians, teachers, and a few trusted people in the United States, no one else on Earth knows of their existence. Most of those who helped in their births believe the children left with their parents on the Antarean Mothership, and of those who know where they live, only a few suspect how very special and talented these children are or what their potential might be.

To the Brigade, the chance to leave Earth and enter the realm of deep space travel occurred by chance—an accident of time and place. "But was it an accident?" the Brigade's commanders had wondered. The Antareans' answer was simple: "Nothing in the Master's Plan is accidental."

If the children of Butterfly House were to leave their home planet and if they had no contact with Earth again, what might future Earth-human space travelers find in millennia from now? Would the Brigade still exist? Would their offspring and generations beyond have joined the Brigade?

The children of Butterfly House know the answers, and the Universe is about to find out!

David Saperstein is an author, filmmaker, and professor whose first novel, Cocoon, became a New York Times bestseller. The novel was made into a movie and won two Academy Awards. He has written fourteen novels and thirty-five movie and TV scripts, directed feature films, created lyrics for over eighty published songs, and written librettos for three musicals. He has taught, lectured, and facilitated seminars in colleges and corporations in the United States, Canada, and Europe. Saperstein was born and raised in New York.
More like this