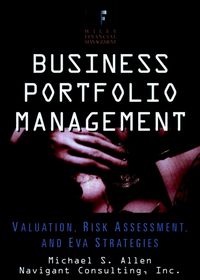 BACK
Business Portfolio Management
Valuation, Risk Assessment, and EVA Strategies
Business Portfolio Management In recent years, numerous companies have demonstrated that corporations can achieve striking increases in shareholder value through effective strategic management of their portfolios of subsidiaries, business units, and product categories. To realize these remarkable gains, however, decision makers need a reliable framework for choosing among alternatives, making tradeoffs between risks and opportunities, and understanding how separate units of their portfolios will interact. Business Portfolio Management provides that framework. Using examples from major portfolio companies such as General Electric, The Travelers, Coca-Cola, Merck, Hewlett Packard, and more, this book demonstrates how effective portfolio management can help companies do a better job of creating real strategic alternatives, estimating the relative values of those alternatives, and understanding and managing the risks involved in each. It provides nonfinancial managers with practical techniques that have helped dozens of companies:
* Find an efficient frontier for the portfolio business
* Develop an effective portfolio strategy
* Build shareholder value through the creation of significant alternatives
* Use metrics, such as EVA,(TM) as a forward-looking evaluation tool
* Measure and track the value contribution of each unit over time
* Leverage replicable success templates across the portfolio
* Strengthen portfolios through acquisition
For corporate CEOs, CFOs, and strategic planners, as well as for executives in major business units that are part of larger corporations, Business Portfolio Management provides both the strategic vision needed to drive the acquisition and structuring of a well-focused business portfolio and the methods to manage the portfolio for maximum shareholder benefit.
More like this