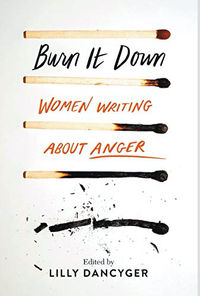 BACK
BURN IT DOWN
Women Writing About Anger
A rich, nuanced exploration of women's anger from a diverse group of writers.
Women are angry, and from the #MeToo movement to the record number of women running for political office, they're finally expressing it. This issue isn't just timely - there's depth to the idea of women's rage: who gets to be angry (white women, black women, young women)? How do women express their anger? And what will they do with it-individually and collectively?

In Burn It Down, a diverse group of women authors explore their rage-from the personal to the systemic, the unacknowledged to the public. One woman describes her rage at her own body when she becomes ill with no explanation. Another writes of the anger she inherits from her father. One Pakistani American writes, "To openly express my anger would be too American," and explains why. Broad-ranging and cathartic, Burn It Down is essential reading for any woman who has burned with rage but questioned if she is entitled to express it.

Edited by Lilly Dancyger, a Catapult editor and writing instructor, Burn It Down is an anthology that offers literary catharsis and narrative variety to the many readers who have propelled Rebecca Traiser's Good and Mad to the NYT bestseller list.

Lilly Dancyger is the memoir editor at Narratively, a contributing editor at Catapult, and assistant books editor at Barrelhouse. Her essays and journalism on sex, politics, and culture have appeared in Rolling Stone, the Rumpus, the Washington Post, Psychology Today, and more. Dancyger is at work on a memoir about her father's art and heroin addiction and the legacy of both in her life. She lives in New York.
More like this