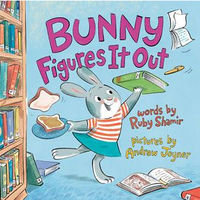 BACK
BUNNY FIGURES IT OUT
One little bunny learns the power of books, facts, and libraries on her quest to make her perfect sandwich.
When Bunny's sandwich-making plans are disrupted by a lack of jelly, she knows what to do--she'll make her own! After asking her brother, neighbor, father, and grandmother how to make jelly, though, and getting absolutely no right answers, Bunny starts to despair! Will she ever get to make her perfect sandwich? It's only when Bunny learns to look for information in just the right place--the library--that she finds the answers she's been looking for.

In this fun and fact-affirming story about solving problems with good information, readers learn the right way to find the answers they need--with bold and appealing art by Andrew Joyner, the illustrator of Dr. Seuss's Horse Museum.

Ruby Shamir (rubyshamir.com) is an award-winning children's book author whose titles include the What's the Big Deal About . . . American history and civics series. She previously worked in government and politics--in the White House, in the U.S. Senate, and on a bunch of campaigns--and writes to share with readers what she learned in those roles. She lives in the Bronx, New York, with her husband and three children. Follow Ruby on Twitter @ruby_shamir.

Andrew Joyner (andrewjoyner.com.au) is the illustrator and author of numerous children's books, including Dr. Seuss's Horse Museum and Hooray For Diffndoofer Day, The Pink Hat, The Hair Book by Graham Tether, and Duck and Hippo in the Rainstorm by Jonathan London. He also wrote and illustrated the Boris chapter book series about an adventure-seeking warthog. His books are now published in more than twenty-five countries. He lives with his wife on the Fleurieu Peninsula in South Australia.

Weblink:
rubyshamir.com


More like this