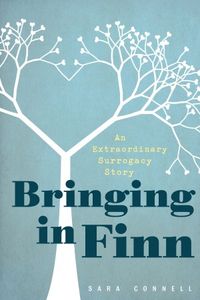 BACK
BRINGING IN FINN
A Mother and Daughter's Labor of Love
IN BRINGING IN FINN, Sara tells the remarkable story about how their family came together to create a life and how their journey repaired to what had been, at times, a fractured relationship between a mother and a daughter.
In February 2011 sixty-one-year old Kristine Casey delivered to her daughter, Sara Connell, the greatest gift of all Sara's son, Finnean. For years Sara and her husband Bill had been trying to have a baby and had suffered through a miscarriage and stillborn twins. Sara and Bill had started to give up hope of bringing a baby to term. Nevertheless, a little over a year ago when Kristine approached her daughter about being a surrogate she didn't know what Sara would say. But Kristine felt she must try. The happiest moments in her life were when she gave birth to her three daughters. She felt the vision to surrogate for her daughter was a calling.
Just after Finn's birth, his story swept the nation and was featured on one of the final episodes of The Oprah Winfrey Show. Since then, Sara and Bill have avoided the many requests for interviews (they were, after all, raising a newborn). For the launch of BRINGING IN FINN, however, Sara has agreed to participate in an interview tour after ABC committed time for her on Nightline, Good Morning America, and The View. Sara Connell is a speaker and life coach by trade. She speaks regularly to a wide variety of corporations, Fortune 500 companies, organizations, and groups both nationally and internationally about a new model of living and leadership based on integrating the feminine strengths that are too often overlooked or ignored in our schools, businesses, and government systems.
More like this