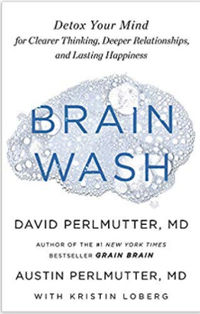 BACK
BRAIN WASH
Detox Your Mind for Clearer Thinking, Deeper Relationships and Lasting Happiness
How what we eat and drink can free us from the 24/7 pressure of modern life: here is a 10 day plan that will rewire your brain and body to be self-healing and sustainable.
BRAIN WASH builds from a simple premise: Our brain's performance is being gravely manipulated, resulting in behaviors that leave us more lonely, anxious, depressed, and overweight than ever before. Based on the latest science, the book presents the tools necessary to think more clearly, make better decisions, strengthen bonds with others, and develop healthier habits. With a 10-day program, including a meal plan and 50 delicious recipes, BRAIN WASH is the key to cultivating a healthy, vibrant, meaningful life.

David Perlmutter, MD, is a board-certified neurologist and Fellow of the American College of Nutrition. He maintains an active blog at DrPerlmutter.com and is the author of Grain Brain, Brain Maker, The Grain Brain Whole Life Plan, The Grain Brain Cookbook, and Raise a Smarter Child by Kindergarten.

Austin Perlmutter, MD, is a board-certified internal medicine physician. His academic interests center on studying the effects of burnout and depression as well as preventive care and chronic disease management.

Weblink:
https://www.hachettebookgroup.com/titles/david-perlmutter/brain-wash/9780316453332/


More like this