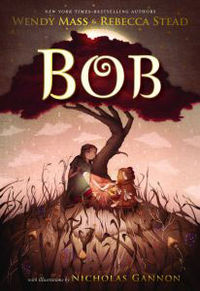 BACK
BOB
A Chicago Tribune Best Children's Book of the Year
2018 Booklist Youth Editors' Choice
New York City Public Library Notable 100 Best Books for Kids
Goodreads Choice Award Nominee

Ten-year-old Livy can't remember much about the last time she visited her grandmother in Australia, even when Gran tries to spark her memory by showing Livy the things she loved most when she was little: a stuffed elephant, a bag of black chess pieces, and an old tape recorder. But then Livy goes up to her old room and discovers something very important, something that's been waiting very impatiently for her return. Something very . . . green. And that's when things get really weird.

Told in alternating chapters by Wendy and Rebecca, this is a funny, heartwarming tale about friendship and family, the power of childhood, and a little bit of magic.

Wendy Mass is the New York Times-bestselling author of the Candymakers series and twenty other novels for young readers that have been translated into twenty-one languages and nominated for over seventy-five state book awards. They include the Schneider Family Book Award-winner A MANGO-SHAPED SPACE, JEREMY FINK AND THE MEANING OF LIFE (which was made into a feature film), EVERY SOUL A STAR, PI IN THE SKY, the Twice Upon a Time series, and the Willow Falls series that began with 11 Birthdays. Her latest is a series for early readers called Space Taxi.

Rebecca Stead has written four novels for young people: First Light, When You Reach Me, Liar & Spy, and Goodbye Stranger. Her work has been awarded the Newbery Medal, the Boston Globe/Horn Book Award for Fiction, and the Guardian Children's Fiction Award. Her three most recent books were also New York Times bestsellers and New York Times Book Review Notable Books for Children. She lives in New York City with her family and their lazy but beautiful cat.
More like this