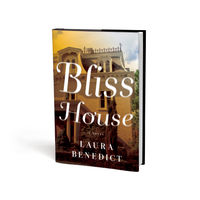 BACK
BLISS HOUSE
Amidst 62 acres of lush farmland and orchards in Old Gate, Virginia, stood the magnificent yellow brick structure known as Bliss House. Built in 1878 by Randolph Hasbrouck Bliss as a country retreat, Bliss House was impressive, historic; it was also inexplicable and mysterious. Decades of strange occurrences, disappearances and deaths have plagued the house since the beginning, yet it remained vibrant. And very much alive. Above all, Bliss House possessed an incurable sickness, a palpable darkness and secrets embedded within its walls.
Rainey Bliss Adams desperately needed a new start when she and her daughter Ariel relocated from St. Louis to Old Gate, Virginia and settled into the house where the Bliss family had lived for over a century. Rainey's husband had been killed in a freak explosion that left her 14 year-old daughter Ariel scarred and disfigured. At its grand housewarming party in Old Gate, Bliss House began to reveal itself again. Ariel saw haunting visions: the ghost of her father, and the ghost of a woman being pushed to her death off of an upper floor balcony, beneath the exquisite dome of painted stars. Ariel also witnesses a murder the night of the party; Karin Powell, the magnetic real estate agent was pushed to her death, her body splayed on the carpet, staring at the exquisite ceiling. But mysteries emanated: it was not the same woman Ariel had witnessed going over the balcony. And who was the man pushing her? He looked familiar.... The scene played out over and over within the walls where unspeakable evil had occurred. The house had its secrets, as did the good folks of Old Gate. Death never did come to Bliss House quietly. Unseen forces swirled around the girl, as she began to heal in the house in an unexpected way and as others continued to die...

Laura Benedict is the author of DEVIL'S OVEN, a modern Frankenstein tale, as well as the dark suspense novels ISABELLA MOON (Ballantine 2007) and CALLING MR. LONELY HEARTS (Ballantine 2009). Her work has appeared in Ellery Queen Mystery Magazine, PANK, and numerous anthologies like Thrillers: 100 Must-Reads (Oceanview), and Slices of Flesh (Dark Moon Books). She originated and edited the Surreal South Anthology of Short Fiction Series with her husband, Pinckney Benedict, and recently edited Feeding Kate, a charity anthology, for their press, Gallowstree Press. She's frequently told that she's much scarier than she looks.

Weblink:
www.laurabenedict.com


More like this