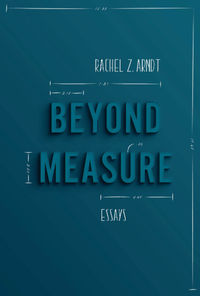 BACK
BEYOND MEASURE
Essays
Harnessing the precision of a surgeon and a poet's eye for arresting detail, Rachel Z. Arndt plumbs the underside of contemporary American society. Beyond Measure is a fascinating exploration of the rituals, routines, metrics and expectations through which we attempt to quantify and ascribe value to our lives.
What does being habitually early or late say about one's character? How many sleep studies does it take to prove a case of narcolepsy? If the weather outside doesn't match the forecast, might it "just need to catch up"? With mordant humor and penetrating intellect, Arndt casts her gaze beyond event-driven narratives to the machinery underlying them: judo competitions measured in weigh-ins and wait times; the significance of the elliptical's stationary churn; the standardized height of kitchen countertops; the rote scripts of dating apps; the stupefying sameness of the daily commute. "How much can data tell us?" Arndt asks, challenging us to consider the simultaneous comfort and absurdity of our exhaustively quantified - yet never entirely quantifiable - lives.


Rachel Z. Arndt's writing has appeared in Popular Mechanics, Quartz, The Believer, and elsewhere. She received MFAs in nonfiction and poetry from the University of Iowa, where she was an Iowa Arts Fellow and nonfiction editor of The Iowa Review. After stints in Rhode Island and New York, she now lives in Chicago and works as a reporter at Modern Healthcare, covering healthcare technology.
More like this