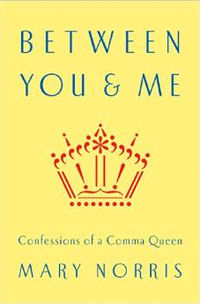 BACK
BETWEEN YOU AND ME
Confessions of a Comma Queen
An irreverent manifesto about language and the written word, filled with stories from her three decades in the celebrated copy department of The New Yorker.
Mary Norris has spent more than three decades guarding The New Yorker's grand traditions of grammar and usage, and she has been hailed by John McPhee as the "verbal diagnostician I would turn to for a first, second, or third opinion on just about anything."
Now she brings her vast experience and sharpened pencil to help the rest of us in a charming language book as full of life as it is of practical advice.

Between You & Me features Norris's laugh-out-loud exhortations about exclamation marks and emoticons, comma faults and curse words; her memorable exchanges about usage with writers such as Philip Roth, Ian Frazier, Pauline Kael, and George Saunders; and her loving mediations on the most important tools of the trade.

Readers—and writers—will find in Norris neither a scold nor a softie but a wise new friend in love with language.

Mary Norris has been working at the New Yorker since 1978, mainly on the copy desk. Her warm and funny pieces about style and rhetoric for the New Yorker's books blog in the past year – about commas, semicolons, umlauts, cursing in print, and her "life in pencils" – are superb, and they really struck a chord; they've been widely shared and talked about online. Originally from Cleveland, she now lives in New York. This is her first book.
More like this