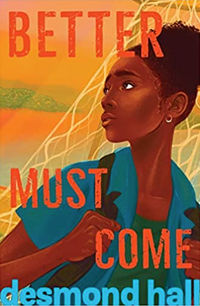 BACK
BETTER MUST COME
BETTER MUST COME is a fiercely evocative, action-packed young adult thriller that looks at the darker side of light-filled Jamaica and how a tragedy and missing drug money helplessly entangles the lives of two teens who want to change their fate.
Deja is a "barrel girl" - one of the Jamaican kids who get barrels full of clothes, food, and treats shipped to them from parents who have moved to the US or Canada to make more money. Gabriel is caught up in a gang and desperate for a way out. When he meets Deja at a party, he starts looking for a way into her life and wonders if they could be a part of each other's futures.

Then, one day while out fishing, Deja spies a go-fast boat stalled out by some rocks, smeared with blood. Inside, a badly wounded man thrusts a knapsack at her, begging her to deliver it to his original destination, and to not say a word. She binds his wounds, determines to send for help, and make good on her promise...not realizing that the bag is stuffed with $500,000 American. Not realizing that the posse Gabriel is in will stop at nothing to get their hands on this bag - or that Gabriel's and her lives will intersect in ways neither ever imagined, as they both are forced to make split second choices to keep the ones they love most alive.


Desmond Hall was born in Jamaica, West Indies, and moved to Jamaica, Queens. He has worked as a high school biology and English teacher in East New York, Brooklyn; counseled teenage ex-cons after their release from Rikers Island; and served as Spike Lee's creative director at Spike DDB. Desmond has served on the board of the Partnership for Drug-Free Kids and the Advertising Council and judged the One Show, the American Advertising Awards, and the NYC Downtown Short Film Festival. He's also been named one of Variety magazine's Top 50 Creatives to Watch. He's the author of Your Corner Dark and Better Must Come. Desmond lives outside of Boston with his wife and two daughters.
More like this