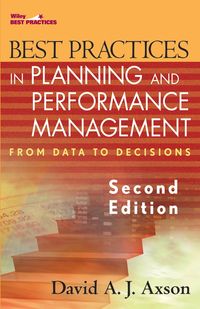 BACK
Best Practices in Planning and Performance Management
From Data to Decisions
Bombarded by an avalanche of information, today's managers find that traditional budgeting, forecasting, and reporting techniques are not only obsolete, they're dangerous. They are simply too slow, too detailed, and too disconnected for the information age we live in. So where do managers turn to for help when asked to develop plans, build budgets, report progress, and make decisions in response to today's increasingly competitive, fast-paced, and volatile environment? The answers are found in Best Practices in Planning and Performance Man-agement, Second Edition.
David Axson's innovative text helps you significantly upgrade your management practices to better meet the needs of today's increasingly complex and global markets. By providing a framework for identifying best practices in performance management, Best Practices in Planning and Performance Management defines clear action plans for successfully developing, implementing, and profiting from the strategic applications of key performance metrics.
Part One makes the case for a radical change in the way managers manage performance, explaining why effective performance management is needed in today's fast-paced world and also provides a series of diagnostic tools and measures to help you evaluate the improvement opportunity. Part Two describes the principal best practices for each element of the performance management process—strategic planning, tactical and financial planning, management reporting, and forecasting. A new chapter on risk management reflects its emergence as a critical component of any effective performance management process. Finally, Part Three provides insights into the steps required to design a best practice–inspired process that is right for your organization as well as the critical success factors for implementation.
With its increased emphasis on performance management, including incentive compensation and competitive analysis, this Second Edition has been thoroughly updated throughout to address the implications of Sarbanes-Oxley, new technologies, global uncertainty, emerging best practices, and risk management. Filled with examples and case studies of how leading companies are rethinking the way they make and implement decisions, this proactive guide for managers and students of business will help you consistently make and execute better decisions faster.
More like this