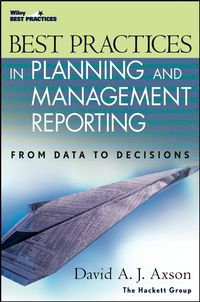 BACK
Best Practices in Planning and Management Reporting
From Data to Decisions
For anyone who has questioned the value of the budget process, been frustrated at the inability to get good information quickly, wondered why so much time is spent developing forecasts that are always wrong, or been angered by the repeated failure of technology to deliver on its promises, there is a solution. Best Practices in Planning and Management Reporting unites the disparate functions of strategic planning, management reporting, budgeting, and forecasting, reducing critical time lags, capitalizing on new technology, and giving new meaning to organizational strategy.
David Axson's forward-thinking text defines clear action plans for successfully developing, implementing, and profiting from the strategic application of key performance metrics. Part One, "Unlocking the Potential of Best Practices," makes the case for best practices as a vehicle for performance improvement, describing the evolution of benchmarking research and advancing a basic framework for putting best practices into action. Part Two, "Best Practices," describes the principal best practices for each element of the planning and management reporting process, including strategic, operational, and financial planning; management reporting; and forecasting. For each, the advantages of appropriate technologies are discussed. Part Three, "Moving from Data to Decisions," analyzes the critical success factors for implementation and offers predictions of the future evolution of planning and management reporting. This book also:
Shows how the planning and reporting processes use performance measures to define requirements
Describes how to build an information delivery process to support best-in-class management reporting
Explains how leading companies are rethinking and redesigning the overall financial planning process to deliver a sustainable competitive advantage
Contains practical, usable benchmark metrics and tools
As cofounder of The Hackett Group, the originator and industry leader in benchmarking best practices, the author draws upon years of experience in helping clients streamline their operations and realize their organizational strategies. Best Practices in Planning and Management Reporting will help any business unite its reporting and budgeting functions, thereby achieving its strategic objectives.
More like this