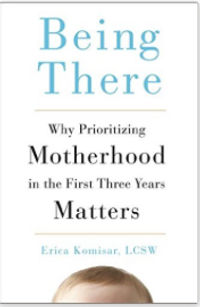 BACK
BEING THERE
Why Prioritizing Motherhood in the First Three Years Matters
Psychoanalyst and parent coach Erica Komisar explores the singular importance of physical and emotional presence in the first three years of a child's life, and offers strategies to help moms achieve optimal work/family balance and foster a meaningful connection.
In this important and conversation-starting book, veteran psychoanalyst Erica Komisar offers a provocative and compelling premise: a mother's emotional and physical presence in her child's life--especially during the first three years--means that her child has a greater chance of growing up emotionally healthy, happy, secure, and resilient. When that essential presence goes missing, the child is at higher risk for social, emotional, and developmental issues, both immediate and long term.

Compassionate and balanced, and focusing on the emotional health and well-being of children as well as that of the mothers who care for them, this book shows mothers and fathers how to give their children the best chance for developing into healthy and loving adults. Based on more than two decades of clinical work, established psychoanalytic theory, and the most current and cutting-edge neurobiological research on caregiving, attachment, and brain development, the book explains:

- How to establish emotional connection with a newborn or young child--regardless of whether you're able to pause your career to stay home
- How to select and train quality childcare if necessary--and how to ease transitions and minimize stress for your baby or toddler
- What's true and false about widely held beliefs like "Babies are resilient" and how to combat feelings of post-partum depression or boredom
- Why three months of maternity leave is not long enough--and how women and their partners can take control of their choices to provide for their family's emotional needs in the first three years

Erica Komisar, LCSW is a clinical social worker, psychoanalyst and parent guidance expert who has been in private practice in New York City for the last 25 years. A graduate of Georgetown and Columbia Universities and The New York Freudian Society, Ms Komisar is a psychological consultant bringing parenting and work/life workshops to clinics, schools, corporations and childcare settings including The Garden House School, Goldman Sachs, Shearman and Sterling and SWFS Early Childhood Center. She lives is New York City with her husband, optometrist and social entrepreneur Dr. Jordan Kassalow, and their three teenage children.
More like this