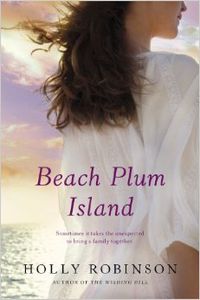 BACK
BEACH PLUM ISLAND
"Your brother should know the truth." These are the last cryptic words that Ava Barrett's father says before he dies. But Ava doesn't have a brother, as far as she knows, so how can she tell him the truth?
She dismisses the conversation and dedicates herself to bringing her family together for her father's funeral. This is no easy task, since her sister, Elaine, has been estranged from the family and still harbors resentment against their stepmother and half-sister, Gigi. Ava, on the other hand, is a single mother who sees Gigi as a troubled teen in need of love and connection.

Ava, too, could use more love in her life and finds it where she least expects it. But the biggest surprise of all is that Gigi holds the key to the mystery surrounding her father's dying words, and joins Ava in uncovering a secret that rapidly unravels the very fabric of their entire family…

Holly Robinson is an award-winning journalist whose work has appeared in Better Homes and Gardens, Family Circle, Huffington Post, Ladies' Home Journal, More, Open Salon, and Parents. She is the author of one previous novel, The Wishing Hill and a memoir, The Gerbil Farmer's Daughter. Robinson holds a B.A. in biology from Clark University and an M.F.A. in creative writing from the University of Massachusetts, Amherst. She and her husband have five children, two cats, a grumpy hamster, and two very stubborn small dogs.
More like this