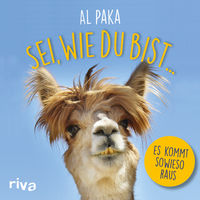 BACK
Be who you are
● funny, fun gift for all occasions ● with alpacas!
Alpacas are the better unicorns - likeable, funny and chilled
"You are beautiful, no matter what they say", as in Christina Aguilera's song conveys a profound message: no matter what others say - each of us is beautiful. Whether you're standing next to your fitness buddy with a beer belly, look like a hungover panda after waking up, or simply stopped growing far too early, the philosopher and joie de vivre guru Al Paka conveys his universal motto in this unique book. Illustrated with pictures of his fellow species. True beauty comes from within.
A quirky gift book, full of fun for all fans of the new trend.
More like this