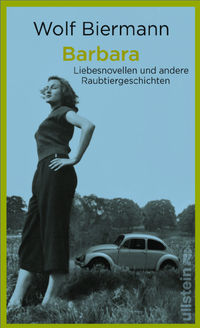 BACK
Barbara
18 novellas full of love for the unusual characters that have shaped Wolf Biermann's life.
Vivid, funny and lov ing - Wolf Bier mann writes about the most power ful of all feel ings and of brave people in tur bu lent times.
From Ruth Berlau, Bertold Brecht's tragic lover to Monika who rams a knife into her husband's back out of jealousy and Biermann's lover Garance, who aŒfter the construction of the Wall, had to prostitute herself in the shackles of the Stasi, Barbara is a collection of very intimate stories.
The esteemed poet is paying tribute to the people, who have shaped his life.
More like this