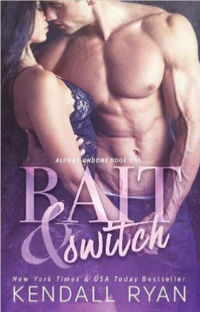 BACK
BAIT & SWITCH
BAIT & SWITCH is Book 1 in the new contemporary romance series Alphas Undone, which will each feature a new couple.This is a standalone full-length novel.
I'm a rescuer. It's in my DNA. Stray dogs. Stray women. But this one doesn't need rescuing. She needs something real, but I never keep the ones I rescue. I could let her go… but I can't watch her walk away. I'm an ex-Navy SEAL, and I never give up on a mission.

A New York Times, Wall Street Journal, and USA Today bestselling author of more than 18 titles, Kendall Ryan has sold more than a million ebooks and her books have been translated into several languages in countries around the world. She's a traditionally published author with Simon & Schuster and Harper Collins UK, as well as enjoying success as an independently published author. Since she first began self-publishing in 2012, she's appeared at #1 on Barnes & Noble and iBooks charts around the world. Her books have also appeared on the New York Times and USA Today bestseller list more than two dozen times.
More like this