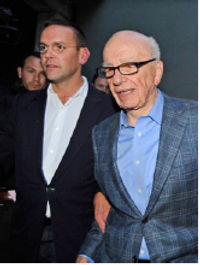 BACK
BAD NEWS
This is a book about the twilight of a media empire unique in the history of the English-language world. No media company before News Corporation has ever spread into so many corners of the world, dominating television, film and newspapers, but also mighty in magazines, books and electronic media.
The Murdoch family controls almost 40% of the votes in News Corporation, even though it owns just 12% of the shares. Ultimately all power is in the hands of the man who created this empire – Rupert Murdoch, a towering figure on the media, business and political landscape, the Sun King who has reigned for 60 years.
But Rupert is now 82 and there are signs that his brilliance is tarnished and his almost mystical Midas Touch has abandoned him. In Britain he has been humiliated by the scandal that enveloped his tabloid newspapers. Under market pressure, the empire is about to split into two separate corporate entities.
Rupert may well live as long as his mother, Dame Elisabeth, who died last December at 103; but it is doubtful that, in a world of resigning monarchs and popes, he can hope to maintain his grip on his empire for that long. So who will succeed him?
Bad News is about the men and women who would like to take charge of the empire, now in decline. It is about Lachlan, James and Elizabeth, who at various times have looked like the People Most Likely, his most senior personnel, on whom he is more and more reliant but who nurse their own dreams and his third wife, Wendi Deng, and their two daughters, also heirs to the throne.
Paul Barry began his television career with the BBC in London – at Panorama and Newsnight. He then joined Four Corners at the ABC, where he established himself as one of Australia's foremost investigative reporters and won two Walkleys along the way. He has been the author of a number of huge bestsellers, including the highly successful unauthorised biography of James Packer, Who Wants to be a Billionaire?
More like this