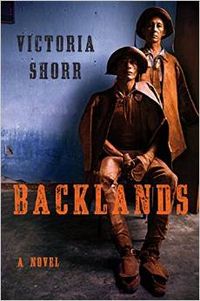 BACK
BACKLANDS
Victoria Schorr's rich novel BACKLANDS is a historically-based tale pitting a romantic band of outlaws against a Brazilian state for control of a desperate badland.
Backlands tells the epic, historically based story of a group of indigenous, nomadic outlaws who rode through the backlands of Brazil from around 1922 until 1938. Led by the one-eyed bandit Lampiao and his lover Maria Bonita—still folk heroes to this day—the bandits marched across the vast, open reaches of their dry, desolate, starkly beautiful landscape, taking from the rich, entertaining the poor, controlling an area roughly the size of France, and fighting off all the police and soldiers the region could muster.

Lampiao had everything—brains, money, power, charisma, and luck. Everything but love, until he met Maria Bonita. Together they would become the most wanted people in Brazil, maintaining their freedom through cunning. This vividly rendered work of historical fiction chronicles the reign and eventual betrayal of a band of romantic outlaws living a near-impossible existence.

Victoria Schorr is a writer and political activist who has lived in New York, Brazil, Montana, and Los Angeles. She writes for Ms. and AdBusters, and is the co-founder of the Archer School for girls in Los Angeles. She is currently working to found a college-prep school for girls on the Pine Ridge Indian reservation.
More like this