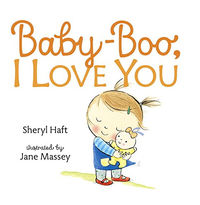 BACK
BABY-BOO, I LOVE YOU
Little ones love playing with their dolls! Celebrate that love with Baby-Boo, I Love You, and follow one imaginative little girl who adores playing mommy. And as she bathes, feeds, and frolics with her doll, she emulates a nurturing parent-child relationship,showing the universal joys of being cared for and cherished.
Sheryl Haft's delightful text and Jane Massey's endearing illustrations make this a wonderful read-aloud for every child with a favorite doll or stuffed toy, and a reminder of their own parents' never-ending love.

ECHOES A LOVING PARENT-CHILD RELATIONSHIP: The little girl mothers her baby doll as if she's a real baby, playing with her, reassuring her so she won't be afraid, and always keeping her happy and safe.

ENDEARING ILLUSTRATIONS: Toddlers will love seeing this tot doing all the things mothers everywhere do with their children: singing, playing peek-a-boo, having picnics, and splashing at bathtime.

PERFECT FOR EVERY CHILD WITH A FAVORITE DOLL OR TOY: Young children treat their favorite toys as if they were living things, and take them everywhere--parents will see their own children reflected in this sweet little girl, and kids will relate to her.


Sheryl Haft (http://sherylhaft.com/) is the founder of Kids Engineer!, an elementary after school program teaching engineering principles through creative invention-building. She and artist Jane Massey also collaborated on I Love You, Blankie. This book was inspired by Sheryl's three daughters, who grew up playing with their beloved baby dolls in the parks and playgrounds of New York City.

Illustrator Bio: Jane Massey (www.janemassey.co.uk) has illustrated numerous picture books, including I Love You, Blankie (by Sheryl Haft) and Eat, Sleep, Poop (by Alexandra Penfold). Jane's illustrations of babies, young children and animals also appear on packaging, advertising and greetings cards. Jane lives on the southern coast of England with her family.
More like this