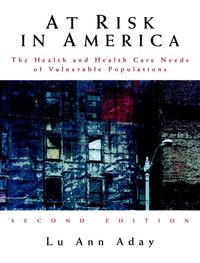 BACK
At Risk in America
The Health and Health Care Needs of Vulnerable Populations in the United States
The skyrocketing numbers of uninsured, combined with the subsequent emphasis on cost-effective practices in medicine, have had a profound impact on the movement to improve access to health care for our most vulnerable citizens. The poor, minorities, and the uninsured, among others, are increasingly finding that favorable trends for access are slowing or reversing. The current solutions to dealing with the needs of these diverse groups have been fragmented-resulting in many at-risk individuals slipping through the cracks of the existing health and social service systems.
This updated second edition of At Risk in America provides a detailed analysis of those key population groups most vulnerable to disease and injury in the United States today-including homeless persons, refugees and immigrants, people living with AIDS, alcohol and substance abusers, high-risk mothers and infants, victims of family or other violence, and the chronically or mentally ill. Lu Ann Aday reviews the major theories and knowledge concerning these at-risk groups and offers new approaches and methodologies for tracing the social determinants and societal influences on health. She examines the specific health needs and risks faced by these groups, their experience in the health care system, the current policies and programs that serve them, and the research and policy initiatives that might be undertaken to help reduce their vulnerability.
Drawing from the latest theoretical, empirical, and policy developments, At Risk in America, Second Edition, updates the data and sources presented in the earlier edition as well as substantially expanding the conceptual framework, research needs, and policy implications initially introduced. The book also examines emerging new trends in the health care system, such as the accelerating influence of managed care, and looks at how public health as a profession is being redefined by these forces. No other source has pulled together, in systematic fashion, such a wide array of information or identified the cross-cutting policy and research issues surrounding the increasing numbers of the at-risk population.
More like this