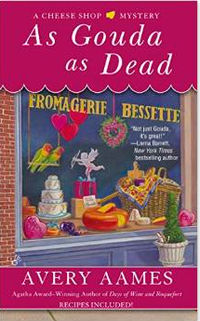 BACK
AS GOUDA AS DEAD
Someone is cheesed off . . .
Providence, Ohio, is celebrating Valentine's Day with weeklong events, including lovers' baskets with heart-shaped cheeses at Fromagerie Bessette. Charlotte Bessette is celebrating by finally walking down the aisle with the man of her dreams, handsome artisanal cheese farmer, Jordan Pace. But when a beloved bar owner is discovered murdered on Jordan's farm, he believes they should reschedule their wedding given the grim turn of events.

Charlotte is heartsick over the postponement. This killer crossed the wrong woman. No one, but no one, is ruining her wedding plans!

Avery Aames is the Agatha Award–winning author of the Cheese Shop Mystery series, including Days of Wine and Roquefort, To Brie or Not to Brie, Clobbered by Camembert, Lost and Fondue, and The Long Quiche Goodbye. She loves to cook and enjoys a good wine. She speaks a little French and has even played a French woman onstage. And she adores cheese. As Daryl Wood Gerber she also writes the Cookbook Nook Mysteries.
More like this