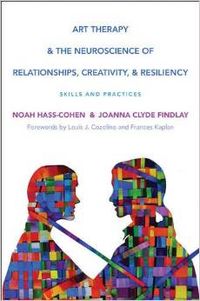 BACK
ART THERAPY AND THE NEUROSCIENCE OF RELATIONSHIPS, CREATIVITY, AND RESILIENCY
Skills and Practices
Presenting a neuroscientifically aware approach to art therapy.
rt Therapy and the Neuroscience of Relationships, Creativity, and Resiliency offers a comprehensive integration of art therapy and interpersonal neurobiology. It showcases the Art Therapy Relational Neuroscience (ATR-N) theoretical and clinical approach, and demonstrates how it can be used to help clients with autobiographical memory, reflecting and creating, touch and space, meaning-making, emotions, and dealing with long-term stress and trauma.

The ATR-N approach, first developed by Noah Hass-Cohen, is comprised of six principles: Creative Embodiment, Relational Resonating, Expressive Communicating, Adaptive Responding, Transformative Integrating, and Empathizing and Compassion (CREATE). The chapters in this book are organized around these CREATE principles, demonstrating the dynamic interplay of brain and bodily systems during art therapy.

Each chapter begins with an overview of one CREATE principle, which is then richly illustrated with therapeutic artwork and intrapersonal reflections. The subsequent discussion of the related relational neuroscience elucidates how the ATR-N work is grounded in research and evidence-based theory. The last section of each chapter, which is devoted to clinical skills and applications, integrates practices and approaches across all six of the CREATE principles, demonstrating how therapeutic art making can help people decipher the functional mystery of their relational nervous system, enhance their emotive and cognitive abilities, and increase the motivation to learn novel concepts and participate in a meaningful social discourse.

Noah Hass-Cohen, PsyD, has developed a theoretical model for art psychotherapy. In her publications, and national and international presentations, she explores the advantages of therapeutic art making from an interpersonal neurobiology perspective. She highlights how sensory expressive practices can provide solid opportunities for softening relationships, increasing empathy, mending attachments, and repairing trauma. A practicing clinical psychologist, art therapist, and mindfulness teacher, she specializes in working with children, adolescents, and their families. Originally from Israel, Noah lives with her family in Los Angeles. Her preferred media is pastels. Faculty at the Couples and Family program at California School of Professional Psychology at Alliant University in Los Angeles, she can be reached at nhass-cohen@alliant.edu.

Joanna Clyde Findlay, MA, ATR, is a marriage family therapist, artist, and registered art therapist. English by birth, Joanna has studied and practiced in London, Paris, and Los Angeles. She publishes and presents nationally and internationally on relational neurobiology and art therapy and has extensive teaching experiences at the graduate level. Joanna conducts trainings in the Jungian based Mari® Mandala© assessment tool and integrates family therapy, art therapy and mindfulness practices in her clinical work. As a multi modal artist, she has a committed yoga practice, which she has used with expecting mothers. Her artistic preferences include mixed media and sculpting with soft materials. She can be reached at jclydefindlay@gmail.com.
More like this