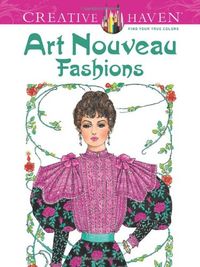 BACK
ART NOUVEAU FASHIONS COLORING BOOK
What were well-dressed ladies wearing during the heyday of Art Nouveau? This coloring book presents 31 full-page illustrations of women and girls in the broad-shouldered, narrow-waisted fashions in vogue from the 1890s to the early 1900s.
Graceful period motifs appear in the backgrounds. Pages are perforated and printed on one side only for easy removal and display. Specially designed for experienced colorists, Art Nouveau Fashions and other Creative Haven® coloring books offer an escape to a world of inspiration and artistic fulfillment.

Ming-Ju Sun has worked in fashion advertising as an illustrator, art director, and photographer. Her original illustrations for Garfinckel's department store, along with her original drawings from Dover's Fashions of the First Ladies Coloring Book, are archived at the Smithsonian's National Museum of American History.
More like this