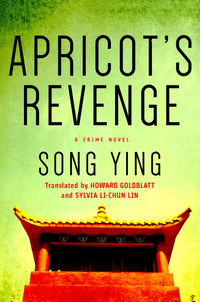 BACK
APRICOT'S REVENGE
(prev. titled THE RED TIDE MURDER
A bestseller in China that was serialized in six major newspapers and received rave reviews, THE RED TIDE MURDER is China's answer to Stieg Larsson's The Girl With the Dragon Tattoo.

APRICOT'S REVENGE is one of the first crime novels that addresses social problems in modern China. A business tycoon is found dead in Shenzhen, China; he apparently died of a heart attack while swimming. The police have three suspects: the vice president of the company who is in line to take over the dead man's position; his young widow who stands to inherit a huge amount of wealth; and his arch business rival. But then one of the suspects is found dead and the police find a drawer full of death threats. The police hit a dead end until a young investigative reporter discovers a new suspect who is not on the police's radar.

Song Ying is an award-winning author in China of both fiction and nonfiction. He has published five novels and 15 nonfiction books. The second book in the series, THE IVORY TOWER, features the same investigative reporter who helps police solve a second case.

The team of Howard Goldblatt and Sylvia Li-Chun Lin have translated over 50 books and received three translation awards from NEA. They translated POW! and Sandalwood Death by Mo Yan, who won the 2012 Nobel Prize in Literature.
More like this